Just like the bridesmaids, flower girls add some colour and excitement to a wedding, and their dresses make them fun to watch when they walk down the aisle.  Choosing your flower girl's dress can be as stressful as choosing the bridesmaids dress. Let's help by showing you images of the latest flower girl dresses for inspiration. Swipe or scroll down to see them.
Picking what your flower girls and little bride will wear is also a major part when planning a wedding.  For starters, you'll have to ensure to choose the right fabric and colour that will fit in nicely with your wedding style, and also harmonize (complement and contrast well) with the other colours in the wedding (such as, the bridesmaid and groomsmen attire).
It's also important to dress your little girls in something that is comfortable and age-appropriate. While at that, you have to ensure that the flower girl dress style you pick matches your wedding colour scheme and style. For you, we took out time to curate samples of flower girl dresses that check off all those points.
To inspire you, check out these beautiful flower girls and little bride dresses and hairstyles that will make a picture-perfect little girl team for your big day.
1. Flower Girl Dress Style Similar to Bride's Dress: Embroidered Off-Shoulder Satin Ball Gown Little Bride Dress with Train
STYLE NOTES:  We can't get enough of flower girls wearing mini-versions of the bride's wedding gown. This bride and her little bride are the most adorable combo. Her dress designer deserves an accolade for doing a fantastic replica of the bride's dress for the little bride. We also like the little lady's sleek natural hair updo hairstyle and that cute headpiece.
2. Princess-Style Flower Girl Dress with Layered Mesh AND Cute Tiara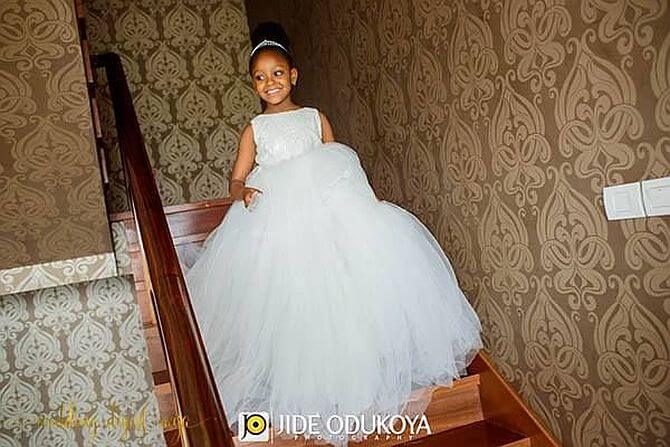 3. Tiered Tulle High-Waist Flower Girl Dresses with Ribbon Waist-Band and Matching Red Petal Hair Clip
STYLE NOTES: White full-skirt, high-waist flower girl dresses in contrasting red sash/ waist ribbon and front petal.  The little girls finished their look with a cute red rose petal headpiece which combines beautifully with their white dress.
Imagine these little angels walking in your church wedding ceremony and sprinkling petals down the aisle. The sight would be nothing short of adorable.
4. Short-Sleeved Tulle Flower Girl Dress With Illusion Sweetheart Neck and Short Hairstyle with Ribbon
5. Elegant Empire Waist/ High-Waist Flower Girl Dresses with White Bow Knot Waist and Slicked-Up Hairstyles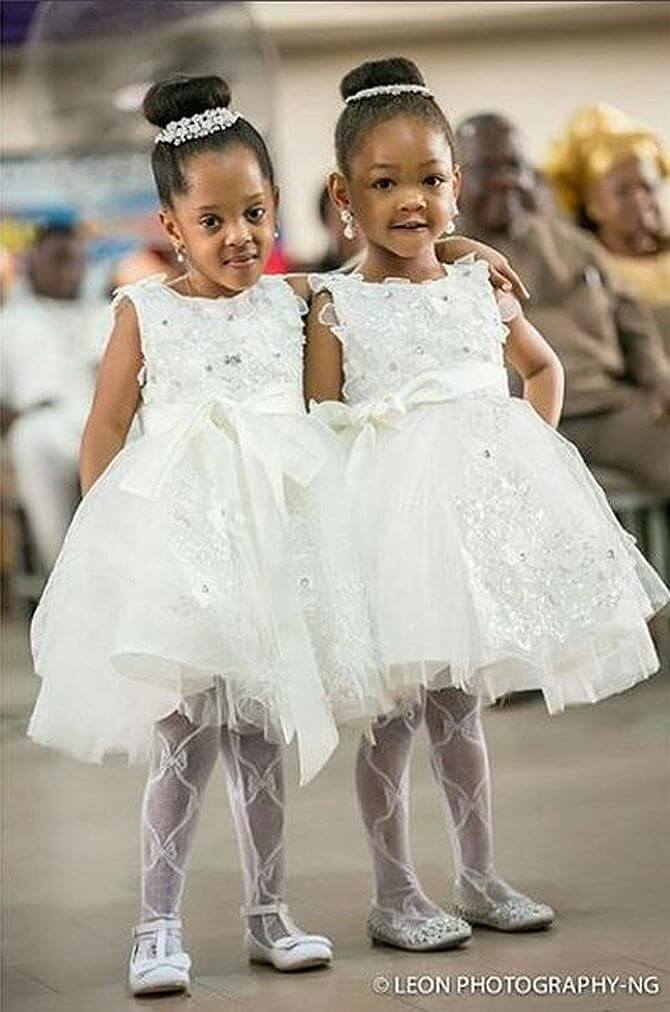 6. Cute Ball Gown Flower Girl Dresses with Ruffles, Cross-Back Details and Back Bow Knot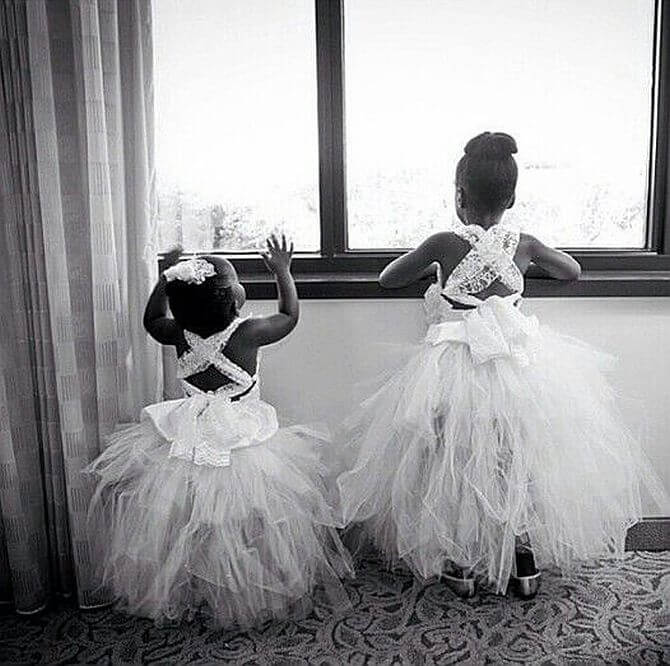 7. Toddler Flower Girl in a Cute V-Neck Tutu Style Dress and Flower Crown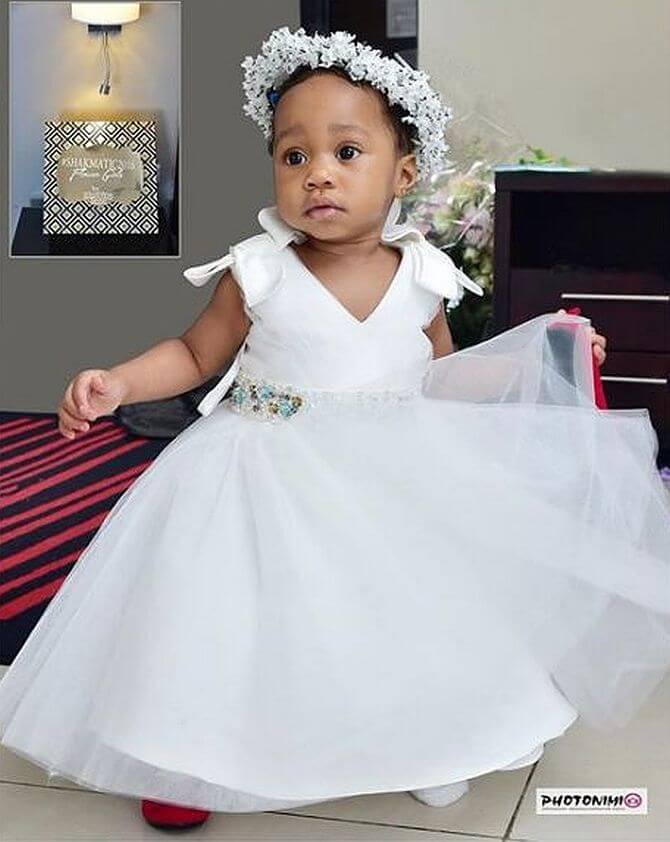 MORE WEDDING FASHION IDEAS
More Styling Ideas to Perfect Your Flower Girls Look
Fabric: The materials for sewing flower girl dresses have been the same over the years – satin, chiffon, lace, organza fabrics, tulle and mesh materials.  Modern brides have stuck to the traditional bridesmaid dress colours of white, champagne, ivory, light mauve or light pink.
However, a few times we see some brides do something different. As long as the colour of your flower girl dresses fit into your wedding color scheme and is in harmony with your bridesmaid dresses and that of the rest of the bridal party, you're okay.
When picking the fabric for your flower girl dress, ensure to choose a material/ fabric that does not easily wrinkle/ squeeze, as you do not want to see your little girl show up on your big day with a wrinkled dress.  Some little bride dresses come with trains similar to the bride's dress.
If you choose to have a flower girl dress with a train, just be sure to select a girl that is not too young so that she would not trip on the train and fall when walking.
Style: Flower girl dresses are sometimes a mini-version of the bride's wedding dress. However, usual styles are with chiffon and have full or layered skirts that make the girl(s) appear child-like and innocent. Popular flower girls'dresses are designed with double-layered mesh or tulle to give the dress skirt some fullness and volume.
A puffy tutu skirt area looks nice on flower girls' dresses, giving the girls a Princess-like/ Cinderella-like appearance that they love.  One trend that is still consistent is the flower girl dresses with sash/ belt or silk ribbon waistband and a petal.  They look absolutely pretty on most girls and you can see that flower girl dress style on some of the little women featured above.
Sleeves:  Let's talk about sleeves: short sleeves are the most popular among sleeve styles for flower girls. That's because it gives a better fit for little girls.  However, there are also beautiful flower girl dresses in other types of sleeves.
Embellishment/ Decorations on Flower Girl Dresses:  Flower girl dresses usually come designed with tulles and decorated with waistbands/ sashes and bows, ruffles, tulle and ribbon-waist, sequins, embroidery and other types of simple embellishments.
Flower Girl Hairstyles: Natural hair hairstyles will make the little girls look their age and there are some simple, sleek children's styles perfect for weddings.  Hair packed up (updos) always look clean and beautiful, and can even look more elegant if you place a little shiny headpiece on. Flower crows also make beautiful hair accessories for flower girls.
Flower Girl Dress Buying Guide and Tips:
Appropriate Length for Flower Girl Dresses: When buying your flower girl dresses, consider the girl's age in deciding the length.  If your flower girl is older, pick a long dress; and if she's younger, choose a short knee-length dress that will make it impossible for her to trip or step over the dress and fall down when walking.
Best Time to Buy a Flower Girl Dress: Even if you get a sweet discount, don't buy your flower girls' dresses far in advance, as the girls could out-grow them and the dress would look awkward. Instead, buy them closer to your wedding date.
RELATED TOPICS YOU MAY WANT TO SEE
Wrapup
There you have it on 7 ways you can dress your flower girls. If you enjoyed this post, please help us share it on social media. Also, follow us on social media and subscribe to be the first to know when we have fresh new wedding fashion and planning tips posts.
Now it's your turn to tell me what you think. Which of the featured latest flower girl dress styles is your fave? Comment below to let me know.