Are you planning to marry an Igbo woman and wondering about how much the bride price and traditional engagement list will cost? Forget everything they told you that you can't afford to marry an Igbo woman, because that is not true. This post shows you everything in the Igbo Engagement List, so that you can save up and budget for it.
The Igbo Traditional Marriage List, also known as the Engagement List, is not as overwhelming or more expensive than other parts of Nigeria as people tend to make it, and you can find out right here. In this post, you will get a sneak peek into what the Igbo Engagement List Items look like, as part of the traditional marriage ceremony preparation.
Now, let's get right into it – check out the customary gifts (Engagement List) a groom is required to present to his future in-laws as part of the Igbo traditional marriage rites. They are 4 categories of gifts, by the way. 
Here's What the Igbo Engagement List Looks Like
1: Gifts for the Umu Ada (Igbo Traditional Engagement List Items)
In English, umu-ada means daughters. In this case, the gifts for the 'umu ada' would be shared among all the grown daughters in the bride's extended family.
Wrappers (George or Abada/ Ankara – brands such as Vlisco Hollandais, ABC English wax, Hitarget wax, super wax, Nigerian Wax, etc.)
Igbo Ichafu scarfs, also known as Gele headties (assorted styles and colours)
Shoes and bags (assorted designs and colours)
Jewellery (wrist watches, earrings, necklaces and rings in either gold, silver, gold plated/ GL)
Toiletries (bath soaps, body creams, washing detergents, perfumes and so on)
Beverages
Drinks (malt and soft drinks)
Lump-sum cash gift
Meeting the Father-In-Law & Bride Telling Her Parents (True Stories from Real Couples)
2: Gifts for the Umunna (Igbo Engagement List)
The items in this category will be shared among the men/ heads of the extended family of the bride-to-be.
Kola nuts
Palm wine (in gallons/ jerry cans)
Bottles of hot drinks
Cartons of assorted drinks (malt, soft drinks and beer)
Tobacco snuff
Cigarettes (rolls)
Goat (1)
Lump-sum cash gift
3: General Gifts (Nmepe Uzo)
Translating to the English language, "nmepe uzo' or 'Imepe Uzo' means 'to open the door'.
Bride price – Negotiable
Cartons of star brand of beer (2)
Cartons of Guinness stout (2)
Cartons of malt (2)
Crates of soft drinks (6)
Bottles of hot drinks/whiskey (3)
Tubers of yam (30)
Bags of rice (2)
Bags of salt (2)
Onions (30)
Palm oil (one 10 or 25 liters gallon)
Groundnut oil (25 liters)
Kerosene (1 gallon)
Stockfish (1 basin)
Meat – goat leg (2)
Bread (25 loaves)
Tins of Tomatoes (1 carton)
Tins of Milk (1 carton)
Tablet soap bars (1 carton)
Talc face powder – big size: Saturday night powder or morning rose powder (20)
Tobacco snuff (20 heads)
Cigarettes (10 packets)
Big basins (2)
5 sets of (George or Abada such as Vlisco Hollandais, super wax, HiTarget, ABC, Nigerian Wax, George)
Igbo style lace blouses (2)
Igbo Ichafu scarfs/ Gele headtie (2)
Wristwatches (2 or more)
Gold necklaces (2 or more)
Large suitcase (1)
Lamp / Lantern (1)
Umbrella (3)
5 Stunning Igbo Men's Wrapper & Shirt Igba Nkwu Attire Styles (Husband and Wife Combos)
4: Cash Gifts (During the Ime-Ego/ Bride Price Ceremony)
These are symbolic cash gifts – the groom and his family may negotiate each one down. These include:
Money to bring down the pot from the fire (in Igbo: ego nfotu ite) – N1,000
Money to open the wine keg (ego ncha kishi udu or in some Igbo dialects, ego nkwupu udu) – N1,000
Money for in-laws (ego ogo cherem) – N50,000 (Ogo cherem literally means 'in-law, wait for me. One of our readers, Chinelo, says it also means 'the money my in-laws presented to me').
Money for maternity bill (ego maternity) – N1,000
Money for the village chief (ego onye eze) – N1,500
Lump-sum cash (ogwe ego) – N5,000
IMPORTANT NOTES:
The aim of providing this sample Igbo engagement list is to guide you in budgeting, and please do not buy them until you officially ask and receive it from your in-laws.
The Igbo custom requires a man to ask and collect 'the list' by himself. Note also that the items inside an Igbo Engagement List vary slightly (slightly) from one Igbo village to another.
This post is part 2 of a 4-post series on the Igbo traditional marriage process (a guide for grooms), and you can check out the other articles in the series:
FAQs & Answers About Igbo Traditional Engagement List
How Much Will My Igbo Traditional Marriage List Cost?
The total cost of buying all the items in your Igbo traditional marriage list is what it will cost you, and the amount to budget. The only way to find out is to take that list to the market and ask for prices. Add up all the costs to get the totals.
Since the price of items in Nigeria differs from place to place, it will not be correct to quote any particular bulk price as the general cost of an Igbo traditional engagement list. I also usually get asked 'how much will my Igbo traditional wedding cost?'.  To estimate how much your traditional marriage, add up the cost of the engagement list items with catering cost (food and drinks) at the marriage introduction/ traditional wedding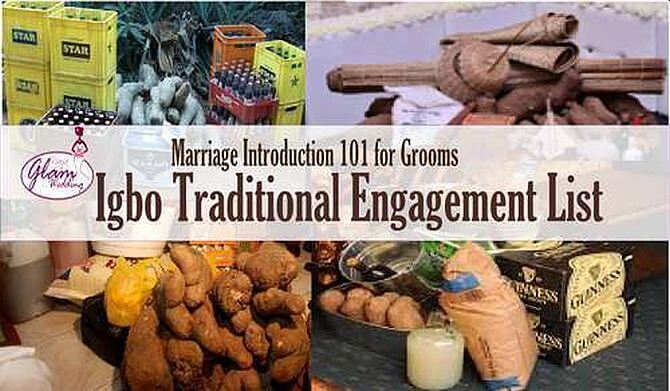 When is the Right Time to Present the Igbo Traditional Engagement List and Go For the Marriage Introduction?
If your girlfriend said yes to your marriage proposal, the next thing is to take your marriage proposal to her family, her parents first. In Igbo customs, this initial marriage proposal/ introductory rite is known as 'iku aka' (literal meaning: knock on the door).
It's expected that the groom-to-be goes alone alone to officially meet the bride's parents. After your first meeting with your father-in-law, you should arrange to bring your parents and a few close family members to officially meet with your bride's bigger family (her parents and extended family). After the groom and his family receive a positive response from the bride's family.
Meeting the Father-In-Law & Bride Telling Her Parents (True Stories from Real Couples)
As part of Igbo custom, to marry an Igbo woman, the groom-to-be is expected to ask and receive the consent and blessings of the bride-to-be's parents.
Once her parents give their consent, the groom can then proceed to complete the rest of the traditional marriage rites, which includes: the bride price payment (Ime Ego) with a presentation of the engagement list, and the formal traditional wedding party (the Igba Nkwu).
The Igbo Dowry vs The True Value of a Wife and Modern Day Twists
It's important for a groom to know that the Igbo bride price and the customary engagement list are symbolical and do not represent the true value of a wife.
The presentation of dowry and bride price is an age-old practice that is also being done by not only the Igbos but by people or other parts of Nigeria and outside Nigeria.
For Ndigbo (Igbo people), the value of a woman is beyond being quantified, and beyond monetary value.  Therefore, the engagement list or dowry presentation should not be mistaken to mean that you are paying to 'buy' your bride. It is wrong for a man to compare the worth of his bride-to-be or wife to the 'symbolic' cash value he paid as her dowry.
FURTHER READING:  Igbo Traditional Marriage Process

Explained in Details
This post that you're reading is part of the series explaining the Igbo marriage stages, traditions, and customs. We've written detailed, easy to understand articles to help you understand how to go about marrying an Igbo woman.
Click the links below to get familiar with the process before your big day:
Why this Igbo Engagement List Preview?
Many men planning a marriage introduction are stressed because they are trying to save up wedding money and have no clue of how much to budget for 'the Igbo engagement list' – without first finding out what's in the list. Therefore, grooms usually over-think it. Also, some men are scared of officially meeting their Igbo Father-In-Laws to make a formal request for the Igbo Traditional Marriage List.
Planning to marry an Igbo bride without an idea of what to expect (as per the Engagement List and Bride Price) is like going to buy a car without knowing the price. If you ever felt that way, this post aims to give you all the information you need in advance to budget for your Igbo traditional marriage ceremony would cost.
Conclusion: Budgeting for Igbo Traditional Engagement List
The Igbo bride price and engagement list for grooms consist of gift items that are shared among different groups in the bride's extended family/ kindred (the umunna, the umuada, the youths, etc.), they're not only for the bride's parents.
While the list can be intimidating to very young men who have recently started to earn a living, with some negotiation and bargaining and pleading, the bride's family can usually tone down a few items.
To help their future son-in-laws cut down the costs of the traditional marriage ceremony, we're seeing many Igbo parents waiving their part of the list in exchange for an intending groom to make a commitment to take good care of their daughter and her future children.
OTHER HELPFUL ARTICLES:  
If you are an Igbo bride or a groom married or about to get married to an Igbo girl, tell me – is there any item that was on your engagement list, which is not on the above list.  How is the above list different from your own traditional marriage list?