For some reason, natural hair black brides have a hard time finding as much wedding hair inspirations than brides with relaxed hair, wigs or weaves. With a good hair stylist, any natural hair bride can slay their real 4C natural hair and look elegant with veils or tiara. You'll love the beautiful wedding-worthy natural wedding hairstyles we are featuring in this post, and also the before and after looks.
Many Nigerian women and, black/ African-American sisters, who've transitioned to virgin or natural hair, find few wedding-worthy hairstyles for their big day. Now scroll down to see the 5 beautiful ways you can style your natural/ virgin hair for your Nigerian white wedding. There's also before and after natural hair makeovers at the end. Enjoy!
1. Updo Natural Hair Wedding Hairstyle for Long Hair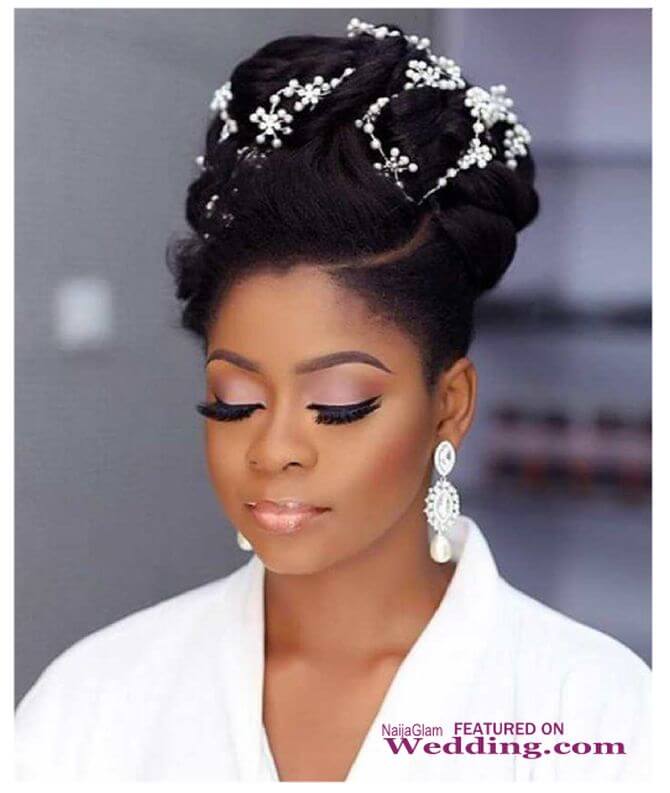 2. Half Updo Natural Bridal Hair Hairstyle with Side Fringe (Accessorized with a Headpiece)
Latest Wedding Hairstyles: Hair Style Ideas for Nigerian Brides 2022 (Pictures)
3. Side-Sweep Natural Wedding Hair Style for White Wedding
4. All-Back With Low Back Bun: Down-do Bridal Natural Hair Hairstyle for Nigerian Wedding
18 Cute Packing Gel & Ponytail Hairstyles for Occasions (Photos)
5. Wrap Updo Natural Hair Bridal Hairstyle for Medium or Long Hair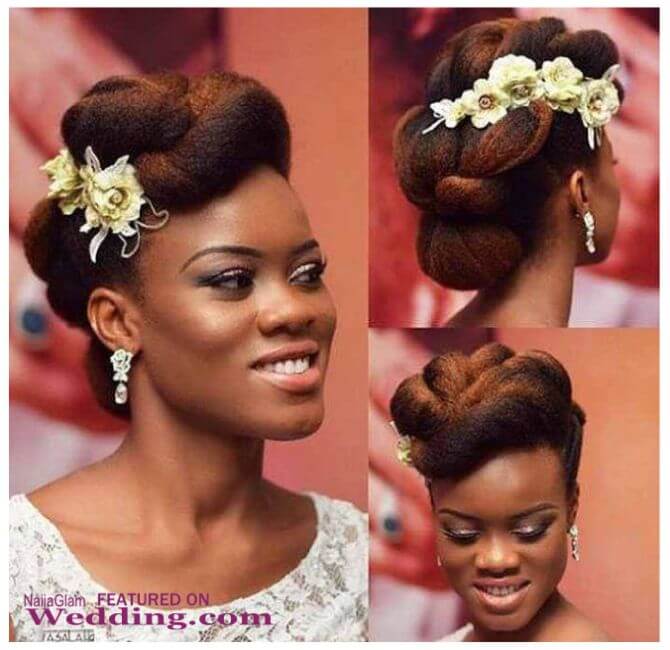 Latest Wedding Hairstyles: Hair Style Ideas for Nigerian Brides 2022 (Pictures)
Before and After Natural

Short Hair:

Wedding

Hairstyle Transformation (VIDEO)
How to Style Natural Hair with Gel and Tips to Slick it Down (Video)
Latest Igbo Trad Wedding Hairstyles w/ Coral Bead Accessories
You Can Slay Your Natural Hair for a Nigerian Wedding
There are so many wedding hairstyle options for natural hair brides – you just need to find a good natural hair stylist. Therefore, you do not have an excuse to not-look stylish in your natural hair. Ever since the most black women of African roots started embracing their God-given hair in its natural kinky texture, we are seeing more Nigerian/ African and African-American brides rocking natural hair bridal styles to their wedding.
Yes, even brides with relaxed permed hair are wearing natural hair-style bridal hairstyles (thanks to extensions).  We are all here for it! Doing the big chop and transitioning are natural hair lingo that we believe aren't going anywhere soon.
Our Nigerian hairstylists have become so good at styling many types of natural hairstyles, including kinky hair versions for wedding updos (packed-up) and hair-downs, as well as half-up and half-down wedding hairstyles.  The styles are so many and gorgeous that there's no more an excuse to not rock your hair natural at your Nigerian wedding if you've been wearing it natural.
You ask, What If…? Our Answers: About the Featured Natural Hair Bridal Hairstyles for Nigerian White Wedding
But I have short hair… There are many wedding-worthy short hairstyles for the Nigerian/ African woman.  Even the long bridal hairstyles can be done on any hair length – short or long hair (shhh! with the aid of natural hair attachment weaves and extensions).
But I Don't think there are Natural Hair Stylists near me… Gone are the days when it was difficult to find natural hair salons in Nigeria.  These days, many good hairstylists exist who know how to create any type of look or wedding hair-style with the 4C or any type black woman's hair.
HELPFUL WEDDING FASHION IDEAS:
Tips: When Looking for a Good Hairdresser for Your Natural Hair Wedding Style
It can be hard to find a good hairstylist that does bridal hairstyles well, but it is possible.  Most Nigerian hairdressers are better with styling permed hair.  However, you can make it easier for your hairdresser if you show him/ her a picture of the wedding hair look you want.
There are now plenty of wedding-worthy bridal natural hairstyle options for Nigerian women with natural (4c type kinky coily) hair. …thanks to our talented Nigerian and African hairdressers. If you're planning your Nigerian white wedding look, you should find a natural bridal hairstyle you like, to show your hairdresser.
Not every hairdresser or hair-stylist is skilled at handling and manipulating the 4c type kinky coily hair texture that most Nigerian women have. Therefore, ensure to find someone who does.  If you ask them, most hairstylists will say they can do natural hair-styles. The best way to find the right hairdresser for your natural hair wedding hairstyle is to ask people to recommend good hair hairdressers they have tried with styling their real hair.
You can also find good wedding hair stylists online/ Instagram, using the tips we detailed in a previous post. Also ensure to do a trial hairstyling session before your wedding, to confirm that the stylist you picked can deliver on the wedding hair-style you choose.
Conclusion
There you have it – beautiful natural wedding hairstyles for natural hair brides. If you're a natural hair or virgin hair Nigerian bride-to-be, I hope that the featured natural hair wedding hairstyles will inspire you. If your natural hair is medium or short, you can add attachment (hair extension) to achieve the above featured bridal hairstyles.
Are you thinking of wearing your real hair in your upcoming wedding? I hope that the bridal natural hairstyles images above will inspire you with options to get married in your real hair/ fro. So, what do you think?  Comment below to tell me – which of those natural hair wedding hairstyles is your favourite?