#19. Serve Finger Foods to Minimize Complaining from Guests: 2-in-1 Nigerian wedding receptions can sometimes bore guests, and some tend to drag for hours (which you should avoid). Guests will complain about timings, and serving finger foods in-between program switch from trad to white wedding reception will keep guests refreshed and not-so-hungry before the real ITEM #7 (food time).
This doesn't have to be expensive small chops like samosa and spring rolls – small-sized puff puff and buns PLUS the sliced wedding cake will do. If you want to save money by doing your own wedding finger foods/ small chops in-house, these video tutorials will help you learn how:
#20. Ensure Availability of Enough Toilets/ Convenience Rooms Before Settling for a Venue: Ensure that the venue you rent has an adequate number of functional toilets so that your guests don't leave the venue looking for where to ease themselves.  Read our tips on what to look for in a wedding venue, to know everything the perfect event venue should have.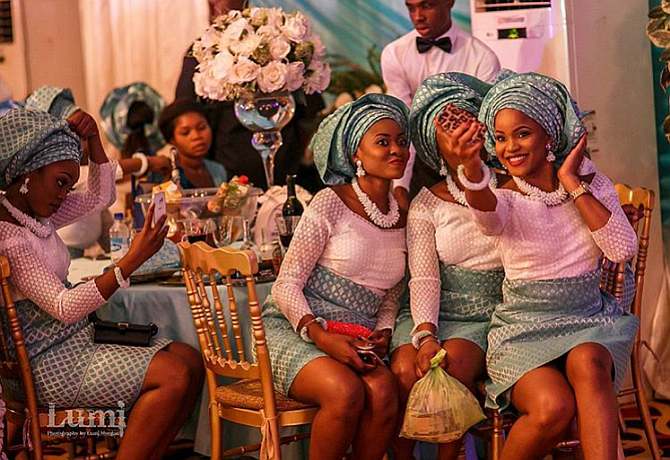 FORMAT 2 & SAMPLE PROGRAM

: Traditional Engagement in the Morning and White Wedding in the Afternoon (Program Timeline)
Most Nigerian churches fix weddings in the morning, and that makes it convenient for a couple to fix the trad engagement and all-in-one reception in the afternoon. But some couples have had it the other way – church wedding in the afternoon or early evening.
If that's going to be the case for you and you plan to have both the white and trad wedding on the same day, then it means you should fix the traditional engagement in the morning. With that saying, your program of activities will also be similar to the one above (for a white wedding in the morning and trad' in the afternoon) – simply switch the timings in the program checklist above.
It is also important to get the time-consuming traditional marriage rites (bride price and engagement list settlement) out of the way in advance.
Why You Should Settle The Bride Price Before The Wedding Day
When planning a 2-in-1 Nigerian wedding (with a combined traditional and white wedding reception on the same day), it is important that the entire event does not last too long. Setting the bride price and engagement list in advance is an effective way to cut down the event time. Let that one be strictly within the family members that must be there (no friends needed). You should target to have not more than twelve people there (from both the bride and groom's family side).
So, if you want to have both weddings on the same day, get the bride price payment settled day(s) or weeks before the wedding day or early in the morning before or during church or court wedding: Get the customary marriage rites settlement (engagement list and bride price) out of the way early, to avoid it stretching to the event time. You don't have to invite guests to this one. It should be a low-key, intimate affair, with only close family members that need to be there (as this is not a party).
If the engagement list and bride price have not been previously settled, schedule for this to take place before the reception; while the court wedding is going on. That way, you don't have to bore guests with what most will not be interested in – especially as engagement list and bride price settlement only require close members of both bride and groom' s family.
So, the court wedding and engagement list/ bride price payment happen will simultaneously, with the couple and a few close friends at the court and the parents at the reception venue overseeing the trad proceedings.
Another reason to settle the bride price and list in advance is that some churches in Nigeria do not allow same-day trad and white wedding, because they want proof of bride price payment before approving the couple for a church wedding date. In that case, simply settle the bride price ahead of time (without any party) and present the proof to your church/ worship house. The reception party should be scheduled at a later date on the same day as the white wedding so that you can plan to have both receptions in one day and the same place.
Why Couples Choose to Have Both Traditional and White Wedding On Same Day (Combined Wedding Reception)
Some couples who are not sure whether having a combined wedding reception ('for trad and white) is right for them often ask: 'what are reasons why some people fix both their traditional and white wedding on the same day?'
The answer is simple: Due to the bad economy and lack of good jobs, many couples in Nigeria have to cut down wedding expenses. Since Nigerians typically have multiple types of wedding ceremonies, with the minimum being two types involving the 'mandatory' customary traditional engagement and additional court registry or religious wedding ceremony.
The usual way is to schedule each type of wedding on a separate date and also have a reception party after.  A typical Nigerian wedding has hundreds of guests, and 'the more the merrier' is the order of the day.
These days, most couples are having to fund their weddings on their own, without the financial support of parents – unlike the good old days. The financial implication of multiple weddings and reception are not affordable for most of today's young couples in Nigeria. Hence the need for a way to cut down costs by having all your two Nigerian weddings (traditional and white) on the same day.
While saving money is the reason why most couples choose to have their weddings this way, for others, the reason is to avoid stress.  Some couples simply want to reduce wedding planning stress. Some couples feel they feel that planning one wedding alone is already stressful, and does not want to go through that a second time.
MORE WEDDING PLANNING GUIDES:
Is a Same-Day Nigerian Traditional and White Wedding For You?
The benefits of having a combined wedding reception by fixing the same date for both the white and traditional wedding are immense for both the couple, their family members and friends. It's a win-win for all – one wedding party means less travel stress and related cost for everyone; friends of the couple also save money from buying only one set of gifts, one set of aso-ebi. The couple saves more money in the process. That's all on this topic. If you enjoyed reading, please help someone else see this post by sharing it on social media.
So, what do you think about doing both traditional and white wedding on the same day, and having a combined wedding reception? Is it something you think you can do or do you prefer the classic way of having each type of wedding on a separate day? Also, is there any different way that you've seen people scheduling the program of events for this type of 2-in-wedding Nigerian wedding? Comment below to tell me, and let's get the discussion going.
Click PREVIOUS PAGE for the beginning of this post